The 2021 Subaru Love Promise Customer and Community Commitment Award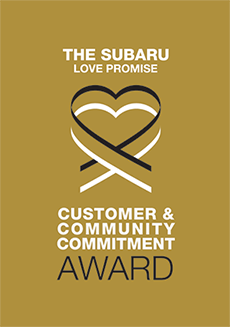 We've been nationally recognized for our dedication to our customers, our community, and the Subaru Love Promise.
We're honored to receive the 2021 Subaru Love Promise Customer and Community Commitment Award. This award nationally recognizes elite Subaru retailers who provide an exceptional customer experience at every interaction with Subaru. These retailers have also demonstrated an outstanding commitment to supporting passions and causes in their local communities in important areas such as the environment, community, health, education, and pets.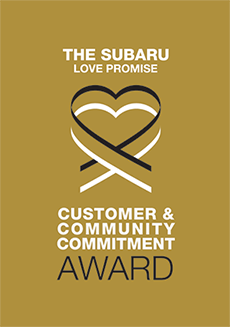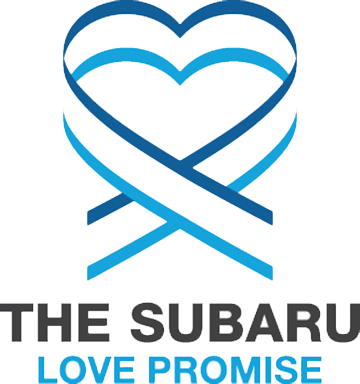 What is the Subaru Love Promise?
Subaru and our retailers believe in making the world a better place and the Subaru Love Promise is our vision of respecting all people. This is our commitment to show love and respect to our customers and to work to make a positive impact in the world.
How is Wilsonville Subaru dedicated locally to the Love Promise?
Our Love Promise can be seen in various partnerships with local charities and non-profits. We're grateful for the opportunity, not only to be a part of our community, but to serve it as well.
Wilsonville Community Sharing
Love Promise Stories from Wilsonville Subaru
Subaru and Wilsonville Subaru believe in making a positive impact on the communities in which we live and work. We uphold that belief through our Love Promise Community Commitment. Every month, we select inspiring stories from customers and partners from around our area who strive to support our collective commitment and feature them here
Sharing the Love with Victory Academy - Tricia H
Sharing the Love with Victory Academy! For the second consecutive year, Wilsonville Subaru is pleased to announce Victory Academy as our 2020 Hometown Charity! Victory Academy is a private school for children on the Autism spectrum, located right here in Wilsonville Oregon! Our relationship began in April 2018 when we had the privilege of hosting their student work study program. This program allows the students to learn job skills by spending time working with us here at Wilsonville Subaru. The students had an opportunity to learn a variety of skills depending on their specific interest and abilities. The tasks ranged from making sure our inventory was sparkly clean, to assisting a lube tech with an oil change, one student even learned every step of our Wilsonville Subaru One Person, One Price sales process! We enjoyed seeing their faces around the dealership and appreciated their enthusiasm and determination to learn. The students of Victory Academy very quickly became part of the Wilsonville Subaru family and we all took great pride in their achievements here.So in 2019 as part of Share the Love it was an easy decision to make Victory Academy our hometown charity. We were thrilled to be able to present them with over $40,000 in donations. Victory Academy is so much more than just a school: The founder and directors of Victory Academy, Tricia Hasbrook and Thea Schreiber both have sons with ASD, and they saw a real need for more supportive schooling for children on the spectrum so nine years ago these phenomenal women took action and opened the Academy. The Victory Academy vision is: "to support the students as they create meaningful relationships, establish life long learning habits and achieve independence".Victory Academy remains the only school for Autistic children in Oregon open year round. Wilsonville Subaru is proud to support this unique educational institution and the amazing students they serve.
---
Subaru Support Saves Shiloh! - Heather S
In October, Cat Adoption Team (CAT) participated in the Subaru Loves Pets event with Wilsonville Subaru. It was during this month that we got to celebrate a very special adoption. At just two weeks old, a little tuxedo kitten named Shiloh was found crying outside in a Portland-area yard. He was all alone, likely abandoned by his mother cat because of a congenital issue. This tiny kitten had a large pink mass protruding from his belly. A good Samaritan took him in and contacted our shelter right away. Thanks to past support from funders like Subaru, CAT's onsite hospital was prepared to help. Our veterinary team examined Shiloh and determined that he had an inguinal hernia along his groin. Part of his intestine was poking through a weak spot in his abdominal wall, resulting in the concerning bulge. Because he was so young, it was too soon for surgery. Instead, our team got him settled into a home with an experienced foster family so he could receive round-the-clock care while still getting support from CAT's medical team. After a few weeks of care, Shiloh had grown big and strong enough for surgery to repair his hernia. He returned to CAT's hospital at five weeks old for a special operation. His surgery was much more extensive than originally anticipated. Both of our veterinarians worked on him for an hour. While they were able to repair some of the damage, his hernia extended up into his side. He would need a second surgery, and his prognosis was guarded. Although not everything was fixed yet, Shiloh could move around much more easily after surgery. He went back to his foster home and within days was feeling more comfortable. He recovered quickly and ten days later, Shiloh got his stitches out. Another week after that and it was time for surgery number two. The veterinary team was glad to see how well Shiloh had recovered. His second surgery went well, and we were cautiously optimistic that he would heal up nicely. That's exactly what happened! After recovering from his second surgery, Shiloh was healthy and strong enough to be adopted. Having kept in touch with CAT during his stay with us, the Good Samaritan who originally found Shiloh decided it was meant to be. Shiloh was adopted from CAT on October 28. Today, Shiloh is a happy-go-lucky kitten living his dream life with a loving adopter. Thank you for making stories like this possible, Subaru!
---
The Good Neighbor Center Shares the Love! - Holly H
November 18th was a chilly, gray, drizzly day in Wilsonville Oregon, but not for our staff Wilsonville Subaru! We were loading up Share the Love blankets in the back of an Ascent out in that drizzly rain and our hearts were warm and full. We were looking forward to our trip to the Good Neighbor Center, a local homeless shelter geared toward needy families, to hand out 80 Subaru blankets as a token of our appreciation for all they do for our community. We had an amazing Share the Love opportunity to meet with Robert Cutshall, a man with many hats and one who is instrumental in keeping the Good Neighbor Center in Tualatin, Oregon running smoothly.On any given day he is a Resident Support Manager, who may be helping one (or all) of the nine families that the Good Neighbor Center can house at any given time. He could be the Maintenance Man, keeping up the building and making sure it's safe and clean for the next family in need. Or even the Executive Assistant, accepting donations, and allowing us to take a few minutes out of his busy day to meet and tell us all about this amazing organization. Robert told us a story of inclusion, acceptance, service and LOVE! He stressed that there are only two requirements to be able to use the Good Neighbor Center services. The first, you need to be a family. You could be a single mom, single dad, an expecting mother, etc. As long as you have a child under 18, you are welcome! And the only other requirement is homelessness, of course. Robert stressed that every religion is welcome, every nationality is welcome, the Good Neighbor Center is completely inclusive and they have no issues relating to prejudice or racism. He was proud of the fact that they house all kinds of individuals, everyone living together harmoniously under one roof. I caught a fabulous quote, "If we can make it work here, why can't the rest of the world?" The Good Neighbor Center goes above and beyond with their resident services. They spend six months with each family, getting them on their feet, helping them find work, even helping residents with letter writing to handle previous evictions. They also help up to 100 families per year, and over 25 children each summer during their summer program. We were welcomed graciously! We met a few other staff, but respected the privacy of the residents. Robert invited us to come back and help prepare a meal for the Center. They are always looking for good volunteers and food donations save the Good Neighbor Center up to $90,000 per year! We promised to return for another volunteer mission, but for now, we packed up our now empty Ascent, and headed back to Wilsonville Subaru. No more blankets to share, but we still had a whole lot of warm and fuzzies!
---
Supporting Wish Kids year-round! - Fletcher J
Despite the uncertainty surrounding 2020, Wilsonville Subaru has decided that supporting local wish kids and their families is a priority. Throughout this year, Wilsonville Subaru has helped fundraise for our wish kids through multiple events ranging from our annual Walk for Wishes to our Stars in Motion Virtual Talent Show. Now, they are making an even bigger commitment. This holiday season, Wilsonville Subaru has chosen Make-A-Wish Oregon as one of their hometown charities for the upcoming Share the Love campaign. This means that if you buy or lease a new Subaru between November 19th and January 4th, you can select Make-A-Wish Oregon as your charity of choice and Wilsonville Subaru will donate $250 to support local Wish Kids! Above is a recent wish granted by our organization. It illustrates the impact individuals and businesses have on children and families in our community. Wilsonville Subaru has made a commitment to support so many great causes in the South Metro area and we are thrilled to call them a partner! Thank you Wilsonville Subaru for all you do to make our community a better place to live, work, and play!
---
Wilsonville Subaru makes the holidays magical! - Fletcher J
From mid-November through early December Wilsonville Subaru championed the Make-A-Wish Oregon Toy Drive to support their Holiday Magic campaign. Over three weeks, the team collected a Subaru full of toys for children currently in Randall's and Doernbecher's Children's Hospitals that Make-A-Wish Oregon will deliver during special events at each location. Their efforts to promote, support, and fulfill the need to bring magic to these children and their families who are going through difficult circumstances make them pillars of our community and people that can always be relied upon in challenging (and good) times. Thank you to Ron, Dick, and the outstanding team at Wilsonville Subaru for their support this holiday season!
---
Share the Love - Taft M
Thank you to Wilsonville Subaru for supporting Wilsonville Community Sharing for the 3rd time during the 2019 Share the Love event!! The happy people you see in this photo and MANY others give thanks for the $24,958.00 given by Subaru to support our work. We are a food bank, responding to the need for food by the 1 in 8 adults and 1 in 6 children who are in need in our area. In the past year, we have been able to distribute 92,560 pounds of food to assist 3,651 individuals and 1,465 families! Wilsonville Subaru has been our steady supporter as we do that work. But we are much more than a food bank! The support you have given us, beginning in 2017, has enabled us to reliably fund a part-time referral specialist to connect our clients with further resources and opportunities so that we give a hand up as well as a handout. We are able to respond to the need for an increasing number of families for help with utilities, or travel help, prescription needs…and we have been able to add a counseling benefit to our work so that deeply rooted emotional issues can be addressed. This work has had a powerful impact on our community and Wilsonville Subaru, as our greatest supporter, stands at the center of that impact. Thank you, Wilsonville Subaru, and thank you Subaru of America for making such a difference in our community!
---
Oregon Trail Rally - Doug H
The Oregon Trail rally is proud to partner with Wilsonville Subaru to put together a car race that fuels the passions of adventurers In Portland and the Columbia river gorge. Rally is an adventure and a great way to experience the beautiful Pacific Northwest. Our event brings together the communities of Portland, The Dalles, and Dufur Oregon with Goldendale, Washington. The rally community also loved dogs! Dogs are a common sight at rallies. This year, we're also partnering with Northwest Animal Companions, a pet rescue that works day and night to help ensure every pet finds a home.
---
Supporting a Love of Reading & Learning in Kids - Susan H
Wilsonville Subaru's generous support of the Wilsonville Public Library Foundation helps provide free books to children from birth to age five in our community. The Library Foundation is the local partner for the Dolly Parton's Imagination Library program and each month this program mails a high quality, age-appropriate book to the children enrolled at no cost to the child's family. Makenna who was enrolled at birth told us "I really love getting books in the mail." Makenna's mother, Jennifer, adds "we all like to see what surprise book comes in the mail each month!" Currently, there are over 800 Wilsonville children in the Imagination Library program and in the past seven years, local kids have received more than 53,000 books. Just over 1,000 have "graduated" from the program on their 5th birthday. Countless parents have shared how excited their child is when their new book arrives each month. Families reading together promotes early learning, increases success in school and inspires a lifelong love of reading. A parent is a child's first teacher and through the Imagination Library and the Library's outreach to families, parents have tools they need to make their children succeed in school and life. Children enrolled in the program enter school better prepared to learn and read. Little Jeffrey's grandmother is astonished by how long he can sit quietly and be read to, sometimes for almost an hour. We hear from pre-school and kindergarten teachers about the positive impact that book ownership and family reading have on children's' success in school. They indicate that children participating in Imagination Library have more advanced early literacy skills than other classmates. We appreciate Wilsonville Subaru's commitment to the Wilsonville Public Library Foundation and local families through their support of Imagination Library and other Library programs for kids like Summer Reading and Science Adventure. Thank you, Wilsonville Subaru!
---
Wilsonville Brewfest Sponsors 2018 - Katie G
The 4th Annual Wilsonville Brewfest in Villebois raised $12,500 for Wilsonville Community Sharing. BIG thank you to Subaru Wilsonville for being a premier sponsor! Without this partnership, our community impact would not be possible. There were close to 1,000 neighbors and friends taking part in enjoying local brews, live music, and food. It is fun for the whole family! We look forward to partnering again and can't thank Subaru enough for the #LovePromise and their commitment to our local community. Cheers to Subaru!
---
CAnby High School Girls Soccer - John M
For the past two seasons, Wilsonville Subaru has been generous enough to donate $500 a season to help our program. With your generous donation, we have been able to purchase gear that will protect us from the cold and rainy nights. The donation has also gone to bringing down the overall cost of participation, making it affordable for everyone! We cannot thank Wilsonville Subaru enough and we look forward to continuing our great relationship with them!"
---
Casual for a Cause - Leigh C
November-December 2018 Wilsonville Subaru participated in Casual for a Cause where the team members were able to wear jeans on Friday if they donated $10.00 or 10 cans of food to Wilsonville Community Sharing/food bank. They were able to donate $480.00 in cash and multiple boxes of food for the food bank! As always they continued to help us help others less fortunate in our community.
---
Food Bank Help - Leigh C
Wilsonville Subaru goes above and beyond helping members in our community access food by picking up fresh meat, produce, bread and other fresh food items from our local grocery stores weekly and bringing them to the food bank. They also provide help with volunteers to pick up and deliver large donations such as holiday meals that we received for Thanksgiving and Christmas. Without their help, we would not have access to these generous donations.
---
Partnering with Wilsonville Subaru Animal Lovers - Jane M
Wilsonville Subaru partnered with the Oregon Humane Society for the "Subaru Loves Pets" promotion during June and July in 2018. The great animal lovers at Wilsonville Subaru really knocked it out of the park, especially for a brand new promotion. During the promotion, the purchase of a new Subaru triggered a donation of $25 to OHS. "The resulting donation will do so much for our community," said OHS Corporate Relations Manager Jane Morrison. "Each year OHS finds forever homes for over 11,000 dogs, cats, and other companion animals, more than half of which come from other shelters in Oregon, Washington, and California. OHS also helps in communities suffered from natural disasters, including those impacted by Hurricane Florence this year." In addition to pet adoptions, OHS provides medical care from shelter pets and spay and neuter services for pets whose owners are low income. Our investigators are working to prevent and stop animal neglect and abuse throughout the state of Oregon. Children are the focus of the OHS Humane Education program, inspiring over 1400 kids each year through in-school programs, as well as youth volunteer opportunities. To celebrate the success of the Subaru Loves Pets promotion, Jane Morrison (pictured here with Paul Heinrich and other Wilsonville Subaru animal lovers) was joined by OHS Animal Behavior Specialists Paulina and Nick Tehran for a program on the "Mysteries of Dog Behavior," also known as "Why does my dog do that?" We can't thank the great folks at Wilsonville Subaru for their support of the Oregon Humane Society this year!
---
Wilsonville Subaru Loves Pets!!! - Jane M
All of us at the Oregon Humane Society would like to thank all the Portland Subaru retailers for raising and donating $56,900 to us during the Subaru Loves Pets Event! This tremendous donation will help hundreds of pets and families right here in Oregon! The Oregon Humane Society celebrated its 150 year anniversary this year and we could not do it without the strong support of Subaru and the local Subaru retailers. We would especially like to thank the team at Wilsonville Subaru for their generous donation of $9,000. Thank you from all the Pets!!!
---